Team Building Opportunities in Catskills NYC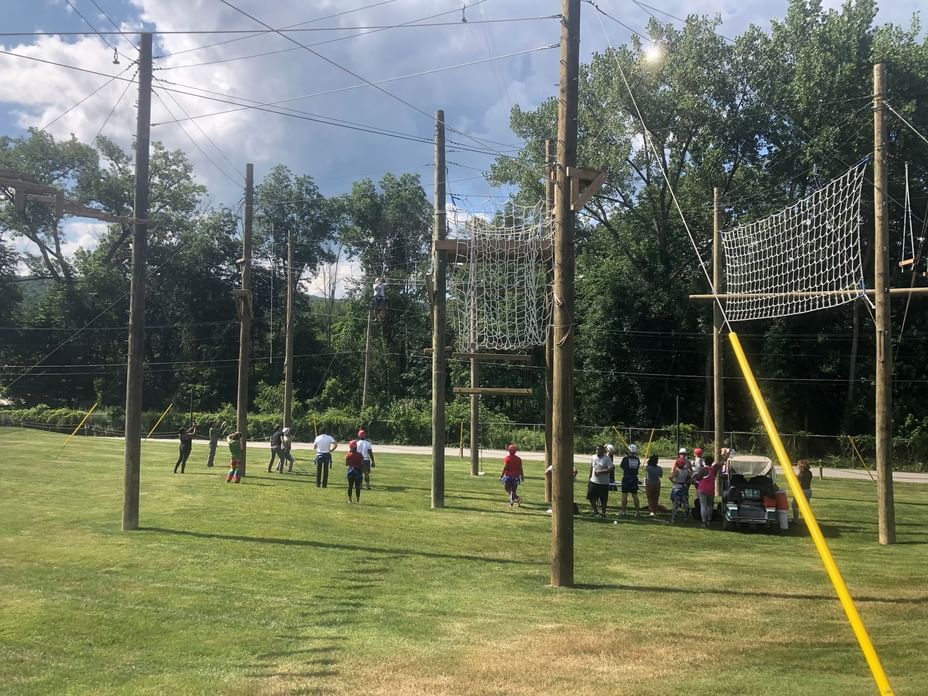 Team building exercises can boost productivity, increase morale, and spur creativity. Even so, not everyone has time to incorporate team building into their daily routine. If you are looking for team building near NYC, consider Honor's Haven. Our beautiful retreat located in the Catskill Mountains provides the ideal setting in which to focus on building and developing your team.
Partners with the Wilderness Institute
We are proud to partner with The Wilderness Institute to bring you the very best Catskills team building opportunities. The Wilderness Institute has more than 30 years of experience in team building exercises, including indoor and outdoor programs. Here at Honor's Haven, the primary focus is on wilderness and adventure activities. Our team building exercises can be customized for any size group, and may consist of any or all of the following:
Rope course
Zen archery
Rock climbing
Rappelling
Pioneering
Outdoor sports adventures
Many of these activities require people to step out of their comfort zones somewhat. As a result, they build trust among the members of your team, while at the same time instilling confidence in individual employees. Through team building in Catskill NY, your employees will be better equipped to take on any new challenges that may arise in the workplace.
Benefits of Team Building
Forbes Magazine calls team building "the most important investment you'll make." As a result of team building, you may notice benefits such as:
Increased morale
Greater productivity
Better collaboration between individual employees or even departments
Enhanced communication
More creativity
Team building can help you create a more positive company culture, which could even help you reduce turnover or absenteeism. Moreover, our team building exercises are fun. People often arrive skeptical but leave here with a whole new perspective because they've been allowed to enjoy themselves. If you have not yet incorporated team building, it's time to take the next step and contact Honors Haven.
Do I Need Team Building?
Perhaps the idea of team building is new to you. If so, you may be wondering whether or not you should participate. Here are some signs that might indicate team building near NYC is right for you:
You have a high turnover rate
Your company is facing internal struggles because employees are not cooperating with one another
You have multiple locations and workers in one office rarely get together with those in another
You've experienced explosive growth and need to keep up with the extra demands that have been placed on your company as a result
Many of your employees work remotely and do not receive face-to-face communication with their supervisors.
Team building can actually benefit any company, regardless of whether you are a startup with only a few workers or a more established business with hundreds of employees. Businesses across a multitude of industries can also benefit, as can non-profit organizations and government agencies.
Although everyone can benefit, your team building needs will vary based upon your own company culture and the goals you are trying to achieve. Allow us to help you come up with a team building program that is just right for you.
Advantages of our Facility
If you are looking for team building near NYC, you'll find our facility provides the perfect location. Nestled in the Hudson Valley, our resort is surrounded by more than 200 acres of breathtaking scenery that includes mountain ranges and a freshwater lake. This environment will make everyone feel at ease, while helping them leave their duties and job responsibilities far behind.
Here in this serene setting, you can better focus on getting to know one another and building teamwork. Getting out of the office means people will not be tempted to meet with clients, answer phone calls, or catch up on paperwork. And the fact that we are a Catskills team building facility means that you are likely to have good participation. After all, who wouldn't want to spend a few days in a gorgeous mountain retreat?
Here at Honor's Haven, we have all the resources you need for a dynamic team building adventure that everyone will be talking about for weeks to come. There is also plenty of activities to keep your workers happy and engaged during their downtime as well. A few of the amenities you will find here include:
Indoor and Outdoor Swimming Pools
Jacuzzi
Fallsview Golf Course
Tennis, Basketball, and Volleyball Courts
Hiking Trails
Gift Shop and Café
Flower Gardens and Fountain
And much, much, more
What to Expect at Honors Haven
Each team building session is different as no two companies are exactly the same. Even so, most programs do tend to follow a similar pattern. That pattern involves introducing people to team building, followed by the actual exercise, and then an opportunity to reflect on what happened.
On the first day, team building in Catskill NY begins with registration and an introduction on the events that are to come. This allows the members of your team to mentally prepare themselves to take part in these exercises.
The second day is when you and your employees will actually participate in hands-on, team building. Along with our knowledgeable guides, your workers will learn to push themselves while at the same time developing trust and building relationships with their co-workers.
After all that hard work, you'll have a chance to discuss the challenges you've faced on day 3. At this point, you've earned a little relaxation, which is why your event will culminate with a guided nature walk before your group departs. By the time you actually leave, everyone in your group will feel refreshed and well prepared to take on new challenges back at the office.
Contact Honors Haven to get Started
Isn't it time to reap the benefits of team building exercises for your own company? Take advantage of the opportunity to instill teamwork in your own employees by contacting Honors Haven today. We'll help you assess your needs and come up with a team building program that is just right for you. Don't put it off any longer — contact us today.