Honor's Haven Reopens Post-Pandemic with a Focus on Wellness
Restorative Weekend Getaways, Expert-Led Intensive Retreats Enhance Mind/Body/Spirit Health and Happiness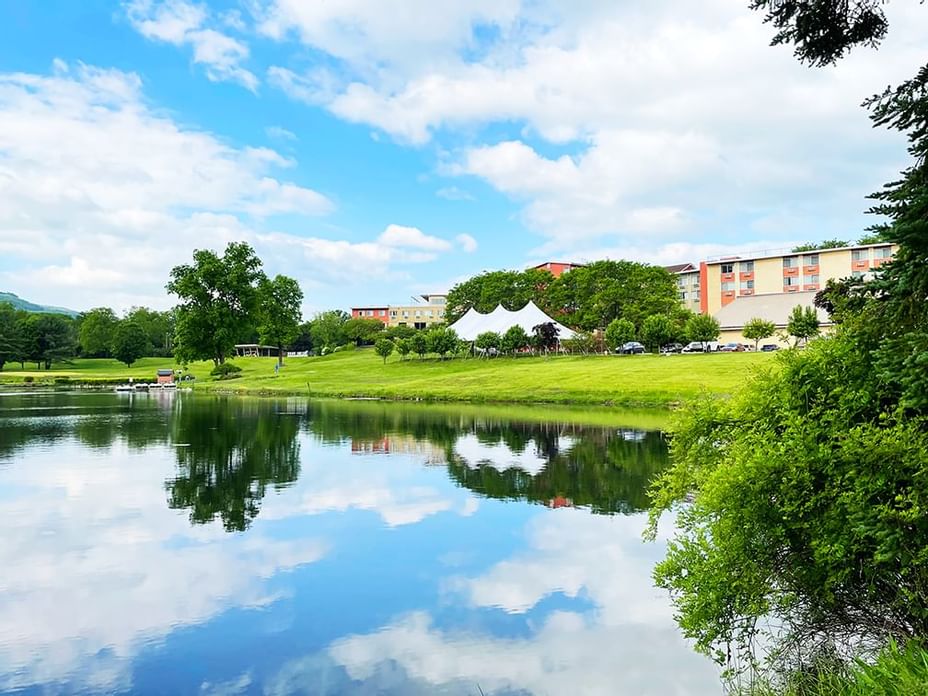 Honor's Haven Retreat and Conference — which has long been known as a prime location for groups, conferences, and weddings — has added comprehensive wellness components to all its lodging offerings for individual guests.
A dedicated team of wellness experts and healing masters curate and lead the classes, workshops, activities, and guided meditations that are intrinsic to the Honor's Haven mind-body-spirit experience.
"Everyone has struggled one way or another in the past year and many of us are looking for ways to start fresh or recommit to our wellness," says Honor's Haven General Manager Julian Lee. "Our team of experts has created a wide range of health and happiness-focused getaways and retreats to help people get back on track and emerge better than before."
To jump-start post-pandemic healing and self-improvement, Honor's Haven is celebrating its own "Summer of Wellness," complete with special on-site and virtual events and initiatives, and a special offer. Guests who use the code Summer2021 will save $100 off Weekend Getaways or $50 off Well-Being Stays through July 31.
The basic lodging offering is now a Well-Being Stay, which includes dinner, breakfast, yoga/qigong classes, daily activities, use of private hiking trails at the base of the Shawangunk Mountains, access to multiple gardens perfect for meditation on the property's stunning 260-acre campus, access to the lush ECO Healing Park, and use of sports facilities and amenities, including indoor/outdoor pools, Jacuzzi, fitness center, pedal boating on the lake, and volleyball/basketball/tennis courts. Guests may add spa services, winery tours, or other activities to enhance their time at Honor's Haven. All-inclusive Weekend Getaway packages include the Catskills R&R Retreat and Family Wellness Retreat, which are perfect for people interested in exploring wellness, planning to kick off new healthy habits, or who just need a relaxing and refreshing weekend away from the stresses of everyday life. Each includes workshops, classes, or offerings focused on general wellness, as well as all meals, and access to all amenities, classes, and activities.
The Minimalist's Getaway, Healthy Eater's Haven, and New You in All Adventures are all Weekend Getaways offering special workshops, classes or offerings focused on a specific wellness theme. The adventure packages also include games and challenges on the on-site ropes, rock climbing, and zip-lining course.
Special Honor's Haven Signature Retreats allow wellness novices and enthusiasts a chance to dive deeper. Popular intensive retreats include Finding Your True Self, Self-Renewal Detox Retreat, Healing Qigong Retreat, Immune Booster, Couples Reconnection Retreat, Healing Chakra Retreat, and the Peaceful Warriors Camp.
The Living Essentials Retreat Series offers bi-monthly educational weekends aimed at teaching Millennials and Gen Zers how to make their lives less stressful and more sustainable, while making them more enjoyable and meaningful, too. Whether attendees join for one session or the entire series, they learn essential life skills.
All guests may visit the Honor's Haven Spa, which offers wet/dry saunas, and a full menu of massages and bodywork, facials and skincare, and one-on-one energy healing sessions with expert wellness masters.
In addition to its wellness stays, getaways, and retreats, Honor's Haven Retreat and Conference continues to offer traditional lodging, meeting space, and venues for groups, conferences, celebrations, and events.
About Honor's Haven Retreat and Conference
A beautiful refuge in New York's Hudson Valley region, Honor's Haven Retreat and Conference is nestled amongst 260 acres of lush gardens and rolling hills, surrounding a freshwater lake at the foot of the Shawangunk Mountain Range. Guests restore spirits and rekindle energies in a stunning natural setting with relaxing and refreshing Well-Being Stays, Wellness Getaways and transformative Signature Retreats thoughtfully designed by wellness experts with decades of experience.
For more information, visit https://www.honorshaven.com or call (844) 469-7829.