Self-Renewal Detox Retreat
Discover Holistic Ways to Improve Your Health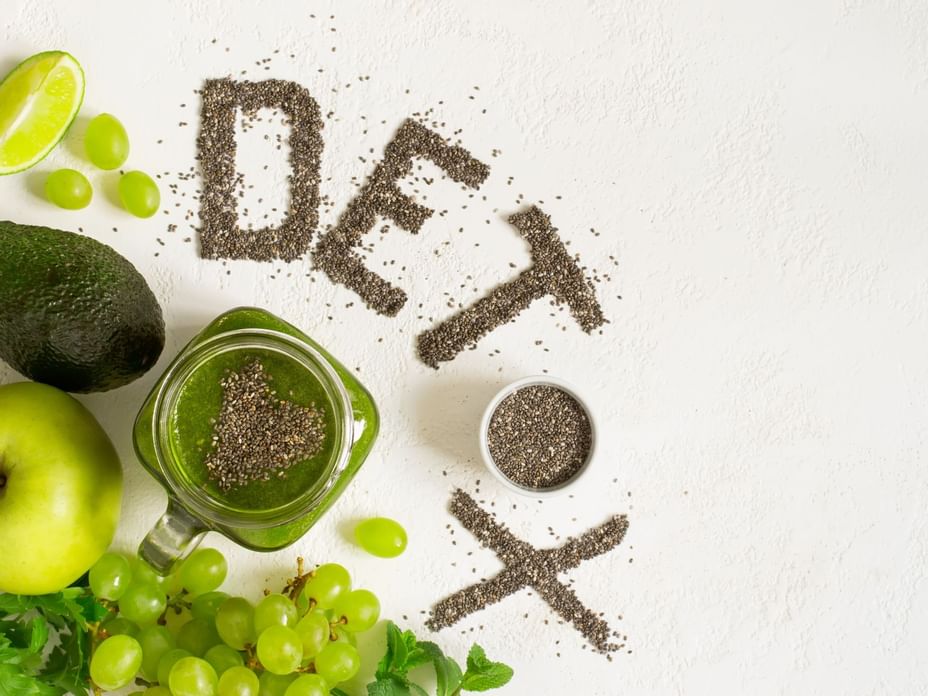 3 Night, 4 Day Retreat
| Current Season Rates | Weekend |
| --- | --- |
| Single Occupancy ONLY | $1,510 |
Retreat packages include 3 meals most days.
This retreat includes an organic, semi-raw menu, a one day fast and a liver cleanse.
Rates are per person based on Executive Room accommodations.
The Self-Renewal Detox Retreat is for individuals who are seeking holistic healing of their body, mind and spirit. In the program, participants will cleanse their body of toxins, awaken their natural healing power and gain enhanced self-awareness. Participants of this retreat will be empowered and inspired to consciously create the lifestyle they've always wanted. You'll experience a deep physical and emotional transformation.
In this program, you will receive a naturopathic doctor's guidance on balanced nutrition, healthful resources and holistic ways to improve your health. Additionally, you'll get daily herbal supplements, probiotics and smoothies, fresh and local organic produce, physical and energetic evaluations during the sessions, healthy lifestyle guidelines and life coaching as well as group sessions designed to share your experience and receive support.


Program Structure:
Morning lakeside qigong**
Physical (body), energy (emotional) and spiritual (information) detox programs
Liver cleanse*
Programs on detoxing, nutrition, emotional healing, organ sound healing
Nature walks at meditation sites
Mindful eating with personal reflection
Evening meditations
Optional private sessions are available for an additional fee.

Program Benefits:
Weight loss
Enhanced mental clarity
Relief from pain
Improved energy
Restful sleep
Elimination of excess toxins
Decreased physical aging signs

LIVER CLEANSE
A liver cleanse is a rejuvenation of the whole body. The liver plays a vital role in detoxing, filtering and cleansing toxins that pass through our bodies. Liver diseases, high blood pressure and diabetes are related to the unhealthy condition of the liver caused by toxic waste stored there. With liver cleansing, you can improve the long-term condition of the liver and witness immediate benefits. Doing a liver cleanse will bring your body in balance, helping you to lose weight, increase your immunity, have more energy and decrease the chance of liver stones.

Benefits of a liver cleanse:
Improved vision
Better bowel movements
Softer, cleaner and brighter skin
Less stiffness on the neck and shoulders
Less itchiness in the skin and inflammation
Removal of old waste from the bowels
More energy and less fatigue
Increased libido and stamina

DISCLAIMER
The Detox Retreat is a medically-supervised program with a licensed healthcare professional on site at all times. If you're pregnant or nursing, you're not allowed to attend this program. If you're taking any prescribed medication or have health problems, please consult with your doctor prior to your participation.

Package Includes
Three meals daily
Spa facilities (Indoor and outdoor pool, Wet and dry saunas, Jacuzzi)*
Indoor and Outdoor sport facilities (Tennis, Basketball & Volleyball court) *
Wellness and Spa services**
Fitness center*
Hiking trails*
Eco-Healing park
Labyrinth garden
Pedal boats
Free Wi-Fi
Mini refrigerator**
* Schedule varies (outdoor amenities are only available season & weather permitting)
** Indicates additional fees may apply

FOR MORE INFORMATION, PLEASE CONTACT:
reservations@honorshaven.com
Call 844-469-7829