Finding Your True Self Retreat
Inbound Journey to Find Who You Are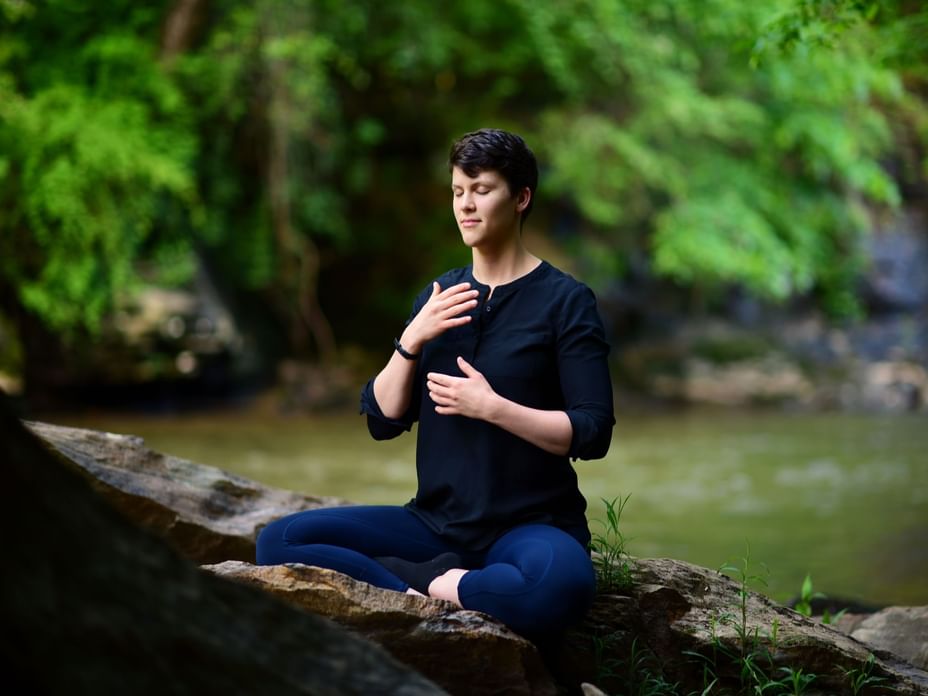 2 Night 3 Day Retreat
| Current Season Rates | Weekend |
| --- | --- |
| Single Occupancy ONLY | $870 |
Retreat packages include 3 meals per day.
Rates are per person based on Standard Room accommodations.
IS SOMETHING MISSING IN YOUR LIFE?
Do you want to discover the person you were born to be? Have you been searching for more fulfillment in your life? Do you feel something needs to change, but you don't know where to start? Thousands of people like you have gotten in touch with their hopes and dreams and have moved toward a more fulfilling reality by reconnecting with their True Selves through this workshop. This life-altering experience has helped many individuals open direct paths to greater understanding of themselves.

WHAT IS FINDING YOUR TRUE SELF?
A powerful transformation program that unlocks your spiritual core, Finding Your True Self is designed to be a heart-opening retreat. It centers not on your vocational identity but on the unique energetic essence that fires every aspect of your life. Most people have experienced their True Selves during fleeting moments when, for no apparent reason, they feel unconditional joy or exceptional clarity. How can you recreate this feeling? Finding Your True Self gives you the answer!

WHAT CAN YOU EXPECT?
Finding True Self connects you to your True Self by helping you look honestly at the mental thought patterns and emotional habits that sabotage your enjoyment of life. During Finding Your True Self, you will participate in a series of activities such as:
Physical exercises
Mindful practice
Guided interaction with other participants
Seeing yourself through meditation
Variety of games for self-reflection
Through the program, you will develop the physical, emotional, and mental sensitivity to experience your deepest essence. You will also acquire the tools to maintain this state in your everyday life and a stronger sense of identity. Your daily actions and decisions will become more confident and authentic. Finding Your True Self is perfect if you want to get "back on track" or gain motivation for personal transformation.

IT'S TRULY AUTHENTIC
Our initial knowledge of the True Self is most likely limited. We often think about it, but don't have a real sense of what it is exactly. Finding Your True Self helps you access your True Self through direct experience with your body. You will come to know your True Self deeply through feeling and experience, rather than just through learning or thinking about it. This feeling is undeniable. Finding True Self touches every part of your being beyond your five senses and supports the search for truth and meaning in your life.

FIND YOUR BLISS!
After Finding True Self, most people feel a sense of profound inner peace and joy. This new, deeper sense of self becomes the starting point from which to awaken your True Self so that you can be more fully alive and truly happy.
A Harris Interactive Study found that 80% of American workers lack passion, are unsatisfied, and remain unfulfilled with their lives… Join the happy 20% by attending a Finding True Self workshop! Join us at our next Finding True Self workshop and discover the true you!

FLEX YOUR BRAIN
You will learn to break negative mental and physical behavior patterns and create new, life-affirming habits. Bad habits can be difficult to break because they become hardwired into the brain through repetition, which solidifies neural connections related to the behavior. Fortunately, the brain never loses the ability to restructure itself. New connections and habits can always be created! Finding Your True Self will help you gain the true ability to create a better, more satisfying life by freeing your body and brain from negative habits and patterns. Now you can create the life you want!
Accommodation Includes:
Three meals daily
Spa facilities (Indoor and outdoor pool, Wet and dry saunas, Jacuzzi)*
Indoor and Outdoor sport facilities (Tennis, Basketball & Volleyball court) *
Wellness and Spa services**
Fitness center*
Hiking trails*
Eco-Healing park
Labyrinth garden
Pedal boats
Free Wi-Fi
Mini refrigerator**
* Schedule varies (outdoor amenities are only available season & weather permitting)
** Indicates additional fees may apply
FOR MORE INFORMATION, PLEASE CONTACT:
reservations@honorshaven.com
Call 844-469-7829